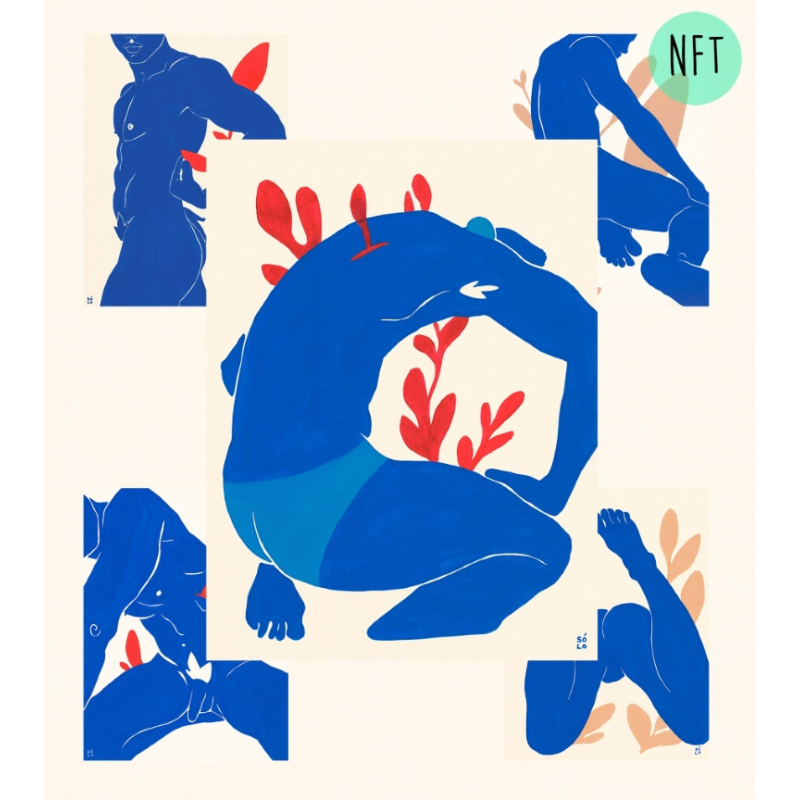  
Amor de Hombre (Colección NFT)
NFT COLLECTION FOR SALE AT OPENSEA.IO
### 50% of the earnings from this NFT will be donated by Bran Sólo to a Spanish LGBT organization ###
Amor de Hombre is a collection of illustrations by Bran Sólo representing masculinity and emotions. In Spain we have a plant called «Amor de hombre». It is a red plant, which grows anywhere with a little water. If it doesn't get much light it turns red, and its stems grow and hang down the facades of houses to the ground. For me, this plant represents the emotions, often romantic, that try to escape from the body, as if sprouting from a crack in a rock. Many try to prevent it from growing, from being visible, but in the end it is inevitable. It always grows.
The bodies become blue because for Bran Sólo there is nothing more admirable than the sea. He is in love with the Mediterranean and, for that reason, he replaces the human figure with the flat, infinite blue. There is nothing more perfect, warmer, more eternal than the sea.
All items have a print run of 100 copies NFT. They are collectible items, each different model is numbered in name.
4 other products in the same category:

Guide to symbols in the work of Bran Sólo
| | |
| --- | --- |
| | The sea: Infinite place of calm, love, perfection, home. |
| | Teeth: Pain, loss, fear. |
| | Tentacle: Attempt to reach, to contain, to trap. |
| | Houses in flames: The home that has been left behind and to which we can never return. Burning the past. To forget. Sometimes it burns and disappears, sometimes it is engulfed by the sea. |
| | Hand with open eye: Hope, saved from shipwreck. |
| | Key at the bottom of the sea: Secrets. |
| | Couple of swifts: Love, dependence, union, couple. |
| | Big ears: Proof that the character is undoubtedly a good person. A child with big ears has to learn to be a good person to survive. |
| | Marks under the eyes: Sadness, dark circles under the eyes, sleepless nights. |
| | Neck marks: Beard, maturity, masculinity. |
| | Circle in the throat: Anguish, choking, lump in the throat. |
| | Narwhals: Narwhals cannot be kissed. |
| | Shipwreck: The frustration of unrequited love. |
| | Constellations: A guide to understanding the incomprehensible. Many of the constellations are random, but they surely exist somewhere in some world. |
| | Red plant: Emotions trying to escape. This plant, Man's Love (Tradescantia) grows everywhere, especially in the cracks between the rocks. The body is the rock, the heart a crack, and from there grow the feelings that try to escape and grow towards the infinite, in search of that which we all long for. |
| | Deformed, blurred eye: Reference to the artist's visual impairment. Fear of blindness. Single point of view. |